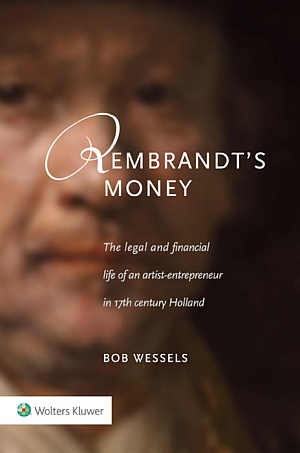 Lidewij de Koekkoek, director of The Rembrandt House Museum in Amsterdam, received on 15 November 2021 the first copy of my book 'Rembrandt's Money. The legal and financial life of an artist-entrepeneur in 17th century Holland'. Via my blog readers have travelled along with my journey with over twenty blogs the last three years (https://bobwessels.nl/tag/rembrandt/) and I am pleased the book is out now. Publisher Wolters Kluwer (Paul Bänziger) and I appreciate Lidewij de Koekkoek's enthusiastic response to our request to receive the first copy of the book. The following applies by way of explanation.
Wolters Kluwer has been my legal publisher for some forty years, having published around twenty of my books. These are obviously legal books on contemporary legal and financial matters. My most recent publication, however, stands out as a legal-historic work. It is about another side of the well-known Dutch Golden Age artist Rembrandt. The book presents in close to 400 pages a compehensive overview of the legal and financial aspects of his life and business as an artist-enterpreneur.
When you think of Rembrandt, you think just a little bit about Leiden, but especially about  Amsterdam. He left Leiden when he was a young enterpreneur being 25 years old and settled in Amsterdam in 1631. He would live in the city until his death in 1669. He lived and worked in the house we are here today (now the Rembrandt House Museum) for twenty years (1639-1658). It is a unique location, because it is furnished as much as possible like the house/studio in real time of over 350 years ago. It is a real place of pilgrimage for visitors from faraway and from closeby, young and old. In 2019 there were 280,000 visitors, of which about 75% were foreign guests. Museum Het Rembrandthuis has been one of the top 10 most popular cultural destinations in the city for many years. The museum contributes to the image of the city and to attracting sustainable cultural tourism by means of a historic artists' house that appeals to the imagination. Twenty years of his works of art were created here!
Just before the corona crisis, the museum's intended Master Plan provided for the renovation and refurbishment and also expansion with the corner building on Zwanenburgwal. As we all have adapted to new realities, also the museum had to. The  plan is not off the table, but has been adjusted and is being introduced in phases. The museum has used the past period creatively to re-examine the museum's raison d'être and relevance. This has led to a renewed museum vision, which forms the starting point for the 2021-2024 period. I quote (in my own translation):
'In the Rembrandt House people can identify with the life, person and studio practice of Rembrandt and his environment. They get to know Rembrandt as an artist, teacher, husband, father, art friend, entrepreneur and Amsterdammer. Our compass for the coming years will be two themes, Rembrandt the man, the human being and Rembrandt the maker'.
Rembrandt, the man and the artist-enterpreneur, was an ordinary relatively small entrepreneur in the art-business in the 17th century. His artistic life has been widely reported many times and rightly so. It seemed interesting to me to look at Rembrandt from a completely different perspective, namely the legal and financial facts, difficulties, disputes and court cases that would arise and follow Rembrandt throughout his life. These concern his private life and his work as an artist – from a young master in Leiden in the mid-1620s, to a celebrated entrepreneur in the third and fourth decades of 17th century Amsterdam, culminating in financial distress in the latter part of his life. It is not only a legal-historic case study. The book also provides background information on how the Republic of the Seven United Netherlands developed and presents too insights into the place to be at that time, the city of Amsterdam, its government, its laws and regulations and its court system. Although the book primarily aims to be a legal-historical study of entrepreneurial aspects of Rembrandt's life, it also sheds light on the socio-economic, cultural and historical context of the period covered and the environments (citizenry of Amsterdam, complex religious circles, business network) Rembrandt interacted with. It offers the opportunity to better understand the local and social Amsterdam history and a part of its local legal system. In addition, a larger picture is developed with providing backgrounds and details that serve as the scenery of the case study, including subjects as the Rembrandt house (its history, the surroundings, his neighbours) and his work (painting, etching and drawing, training pupils) and how he ran his professional business, financial-economic data about art and its performers, including financial and economic data about art, the art market and market players. By providing an overview of the applicable laws and rules in those days – family law, marriage law, inheritance law, contract law, the law of obligations, procedural law, company law, insolvency law, and private international law – the book covers a topic that up to now has not been the subject of systematic research: the legal and financial life of the famous artist in 17th century Holland.
The museum has another side too. As with so many cultural institutions, the Rembrandt House Museum has been hit financially hard by the corona crisis, also because income has been greatly reduced due to the decline in visitors. It is expected that the rebuilding to pre-corona visitor level numbers will take at least three years. This makes the realization of the necessary renovation extremely difficult. The museum did make an urgent appeal to everyone who cares about the museum: visitors, Rembrandt enthusiasts, sponsors, funds, government institutions, Friends and relations: 'Help us preserve and improve Rembrandt's house for future generations'.
The publisher and I believe we can support Lidewij's strong appeal with the presentation of a new, or at least underexposed dimension to Rembrandt as a human being and as an artist. How did the world's best and most famous artist act financially as an artist-entrepreneur in 17th century Holland? This pioneering publication examines the legal and financial facts and figures, as well as its wider socio-economic, cultural and historical context. The museum's goal is for visitors to experience even more of Rembrandt's story, his time and his relevance for today. It is doing this currently by renewing the museum layout and adding more stories from different perspectives. In addition, more attention is being paid to the various people in Rembrandt's life, his studio practice, his art dealership, his passion for collecting, the masterpieces he created in this house, but also the grief over the loss of family members and his financial problems. I am not shy to say that I definitively think that my book can assist in reaching your goal.
The book will, first, appeal to legal and financial professionals and students interested in 'Rembrandt and the 17th century Dutch art period'. Secondly, it's of interest to anyone who, in addition to Rembrandt's artistic work, wants to reach a deeper understanding of the business side of Rembrandt's profession. We hope the publication will appeal too to enthusiasts and collectors who are interested in Rembrandt himself, including art historians.
Lidewij de Koekkoek has said: the museum must prepare for the future. How do we ensure that Rembrandt's house remains a magical and inspiring place for future generations? In addition to carrying out necessary maintenance, the museum must also become more accessible and more complete, covering a wide range of Rembrandt's fascinating live. Allow me, with my book and intended future activities, to act as your extraordinary ambassador.
Order information:

Bob Wessels, 'Rembrandt's Money. The legal and financial life of an artist-entrepreneur in 17th century Holland'. Deventer: Wolters Kluwer, 2021.   ISBN 9789013164893
You can support the museum and learn about future activities of the museum by ordering via
https://webshop.rembrandthuis.nl/nl/rembrandts-money.html
Evidently the book can be ordered via