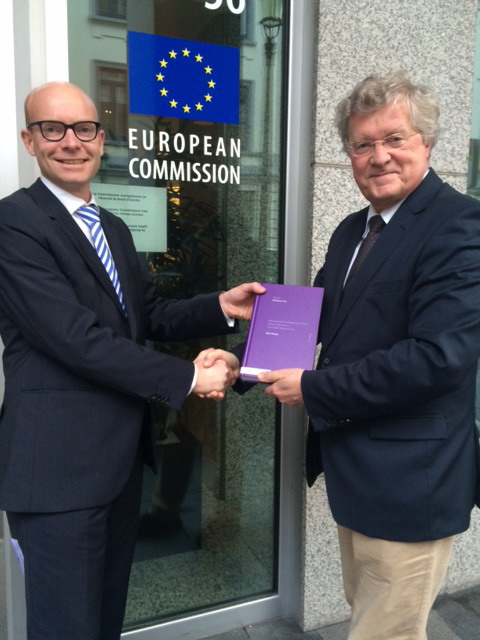 On 13 January 2016, in Brussels, I presented my latest book: Wessels International Insolvency Law Part I. Global Perspectives on Cross-Border Insolvency Law, 4th ed., 2015, to professor Michael Veder (left hand side), Chairman of the Netherlands Association of Comparative and International Insolvency Law.
Wessels International Insolvency Law is known as an authoritive and practical guide on the law of international insolvency. It covers a huge and vast increasing body of legislative rules, case law, scholarly literature and other available sources. The book aims to be a first port of call on any question on international insolvency law for specialists (such as practitioners, judges and scholars), but also for those who are rather new to the subject, including legislators and students. Part II will be International Insolvency Law: Part II European Insolvency Law, foreseen for publication in 2017. Both will form the fourth edition of its original version.
Wessels International Insolvency Law Part I contains three themes:
principles, dogmatic and pragmatic approaches to issues and disputes on international insolvency law, including a commentary on regional conventions (in Latin-America, the Nordic European countries, the OHADA Treaty in Central Africa), 'soft law' sources (e.g. UNCITRAL's Legislative Guide on Insolvency Law) and the use of Protocols or cross-border insolvency agreements,
the status of international insolvency law in the Netherlands (outside of the EU Insolvency Regulation), relevant for cross-border cases with third-(non-EU)countries, including courts such as the cross-border legal disputes related to the insolvent Russian corporate giant Yukos Oil having shares in a company, incorporated in the Netherlands, which holds large assets in several countries, and
the UNCITRAL Model Law on Cross-Border Insolvency of 1997 and its application demonstrated in some fifty USA and UK cases.
On the 3rd edition of 2012: A 'magnificent book' (Hon. Judge Bufford, Los Angeles), a 'marvellous work' (prof. Jessica Schmidt, University of Bayreuth), written by one of the best specialists in the world (François Mélin, Vice-president of the Tribunal de grande instance d'Amiens). This is a work that serious insolvency academics, judges or practitioners cannot afford to do without (prof. Paul Omar, Nottingham Law School and prof. Heinz Vallender, University of Cologne: 'Am "Wessels" kommt niemand vorbei').
To order, go to www.wolterskluwer.nl/shop